TJM Mira Faders 1.0 – Max for Live

Use Mira (or Miraweb) as a controller in your live sets. 8 assignable faders can be assigned to any mappable parameter within Ableton.
TJM MIDI Velocity Mapper 1.0 – Max for Live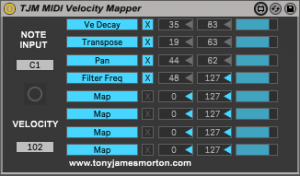 TJM MIDI Velocity Mapper is a simple device which allows you to map "note on" MIDI velocity onto any Ableton parameter.
This device can be particularly useful for drum programming, for example, mapping a hi-hat's decay, pitch and filter to velocity to help create more realistic sequences.
Features:
Assign the velocity to 8 different parameters with a scaling factor for minimum and maximum CC output
Routeable MIDI note allows you to extract velocity from a specific note
Native MIDI through allowing multiple instances of the device on one chain
Download the device from here: http://maxforlive.com/library/device/5106/tjm-midi-velocity-mapper
Manual CC Mapper – Max for Live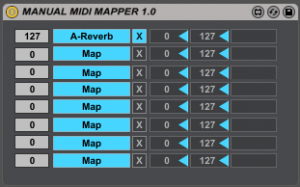 A manual CC MIDI mapper for Ableton.
Based on the M4L expression control. This device lets you manually assign a CC number to an automatable parameter in Ableton, instead of using Live's auto mapping.
It also has a "min/max" value to scale the CC value.
Due to M4L's shortcomings with access to MIDI, the track in which the effect is on must be armed and it's input set to the correct MIDI input.
UPDATE V1.1 Update includes a native MIDI through so you can chain more than one devices together on the same MIDI track.
Download the device from here: http://www.maxforlive.com/library/device/2888/manual-midi-mapper